Posted by Stephan Moskovic | January 11th, 2013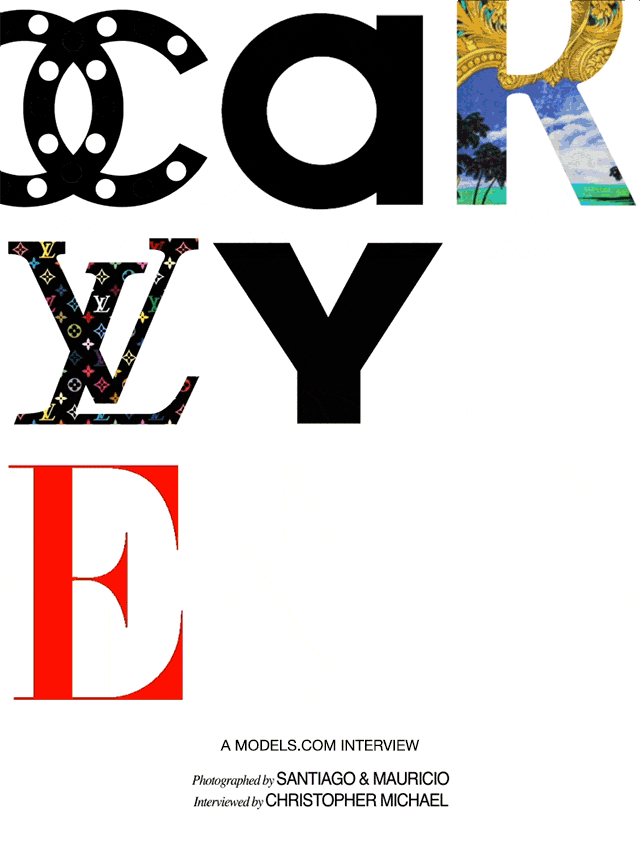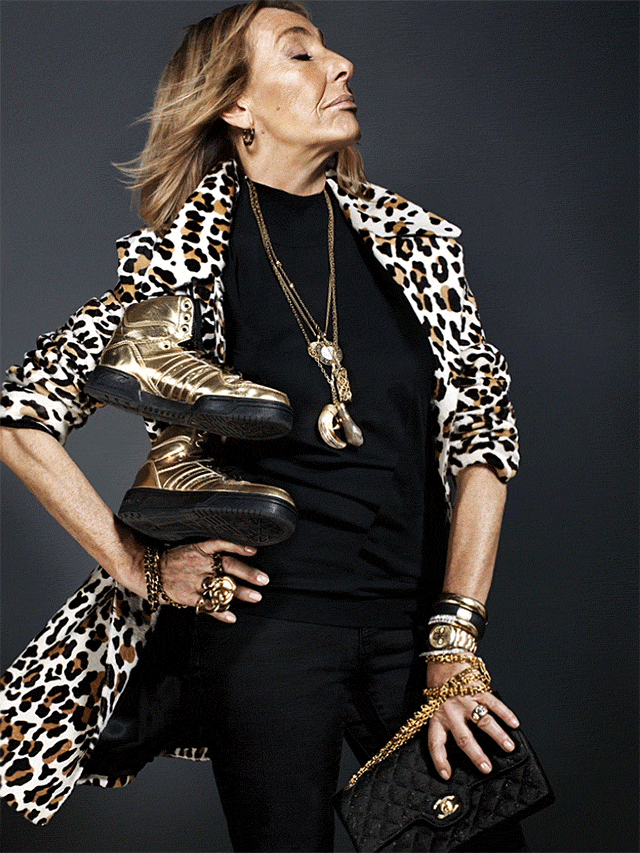 Carlyne Cerf De Dudzeele
A Models.com Interview by Christopher Michael
Photographed by Santiago & Mauricio Sierra / Cadence New York for Models.com
Makeup by Marco Castro
Hair by Judy Erickson
Following the release of Diana Vreeland: The Eye Has to Travel, the excited response of the many who flocked to see it was all about the genius and inspiration that was Diana Vreeland's grandeur. Where have all such flowers gone, you ask? Anyone who has had the chance to encounter the fashion aristocracy that is Carlyne Cerf De Dudzeele will tell you that such magnificence is still very much alive in the world of fashion. Perhaps less common than it once was, we are in awe when we encounter such character today. When Carlyne introduced high-low fashion with the very first cover of American Vogue under Anna Wintour's editorship, where she paired Guess jeans with an haute couture Christian Lacroix jacket, the printers called Anna to make sure that image was actually meant for the cover. So unthinkable was this idea of fashion at the time. When Carine Roitfeld gives credit to the two people who were her greatest influences in fashion in her book, Irreverent, Carlyne Cerf was among them. Passion, excitement and fun-filled honesty are the attributes for which so many know her, and it is these very traits that have accompanied her through the generations that have come and gone during her reign as one of our industry's greatest influencers. As we sat in her living room for this conversation, sipping espresso and giving way to excitement, I couldn't help but wonder — is this how ALT felt during his hours listening to Mrs. Vreeland in her home?
Christopher Michael: Fashion today…
Carlyne Cerf de Dudzeele: Fashion is my PASSION! Unfortunately, I think that fewer and fewer people that work in the industry today know fashion. They are not passionate. If you love something, you have to be passionate. This is what I don't understand. They think because they are going to put a dress by some big designer on someone, they are being creative. It's not true. Many photographers today have no idea what fashion is. They don't understand the attitude of the girl. They don't get it! They want to do their own artistic picture! In fashion photography, we must pay attention to the feeling, the clothes, the body of the girl. Because so many today are lacking the culture and the knowledge of fashion, they get as much nudity as they can, because they don't grasp clothes. I always say, if you want to be a fashion photographer, you have to show the fucking clothes! Of course, it's more difficult. Everybody can do a nude picture, but if you look at a lot of the pictures of the best photographers, it's never going to be demode, because the picture is so strong and actually shows you the clothes! The feeling, the attitude — everything is there.
CM: Do you think that a lot of the intuitive process has changed?
CCD: Yes. When you work with Steven Meisel, he knows fashion, hair, makeup, everything! Now, when you work with some of the newer generation, they don't understand the body of a girl. They don't get the attitude, the position, the legs! I'm obsessed with the legs! They don't understand. They remain so caught up in this idea of creating some big concept, the magic that was so often created together, by a team, is frequently lost.
CM: Do you think that will eventually be watered down to the best, or do you think this is just the new way of things?
CCD: This new generation doesn't always make an effort to learn something. They think they are good, but they have no clue. Each time before I go to do a sitting, I think, "Perhaps it's going to be shit!" I work very instinctively. I'm not a big planner. I do everything on the body of a girl in front of me. I go to pick everything myself. I don't have my assistant prep for me. Even if it's to go pick out jeans, I go myself. Some people don't want you to pass by the showroom, they just want the number from style.com. Me, I don't always work with the runway clothes only. Of course I use them, but I like to mix things. Many times when you ask to go, they just want you to send them the number of the looks. This, to me, is insane. It's not because it wasn't on the runways that the clothes are not good. When I see the girl — clack clack clack — I work on her there, in front of me. I, of course, come prepared with everything, but, for me, it's a process that takes place entirely on set, again, on the body of the girl.
CM: Hands on.
CCD: Yes! Completely instinctive.
CM: You've always mixed, though. That's part of the Carlyne Cerf de Dudzeele way, no?
CCD: Of course, you put advertising in, but I love to mix things. I don't think that the name of "fashion editor" now is the same as before. They don't really do a whole lot. They just put the runway looks on the girl. They don't really mix anything. When I say I love the street — yeah, I love the street, because I think it's ridiculous to go on the street with something off the runway head-to-toe. For me, the best compliment is when a woman looks at a story I've worked on and says, "I want to look like this woman!"
CM: It's that relatable element to which women can connect.
CCD: Naturellement! Bien sur, bien sur…et c'est ca le chic, to mix things. It's not money. Money has nothing to do with chic. It's just a matter of attitude…panache!
CM: Do you find the things that inspire you in fashion today are different than any other year?
CCD: Yes, because I'm not always that excited by the collections. Me, I'm like a plant. When I see something amazing, it's as though you've given me water and I bloom with excitement. Mais de nos jours, c'est de plus en plus rare.
CM: More rare now than before?
CCD: Yes, TOTAL!
CM: What do you think is the reason behind that change? Too much pressure to sell?
CCD: I don't think there are a lot of talented designers. So many of them, as with so many other positions in the business today, are an instant success. They grow like mushrooms, overnight…in the morning, they are suddenly the newest stars. Haha!
CM: Do you think there is a difference between a fashion editor and a stylist? Or do you think those are just words?
CCD: I am a fashion editor, and have been a fashion director many times for different publications, and still receive requests to take this position today. For me, though, freedom is the most important thing in life. I don't want to be sitting in an office every day. For me, fashion is about being a part of the world — being on the street, seeing everything and watching everything. As I think about the story, I create the story in my head. I discuss it with the photographer, I work with the hair, I work with the makeup, and I work with the girl. I'm a part of a team and of my idea! This is why I don't believe there are many fashion editors anymore.
Stylists are the ones who seem to appear out of nowhere right now. This is a perfect example of these mushrooms that just grow overnight! So many stylists think they are being creative by picking pieces from the five hottest designers of the moment, and this is not what it means to be a fashion editor. Not for me, anyway.
CM: The timeless effect in images seems a feat not easily achieved in our time. The digital era has created such a particular aesthetic that it's hard not to clearly associate today's images to this time specifically…
CCD: Look at bags, for example. "It's the bag of the season!" This means that after six months, the bag is demode. Ca marche pas ca! A pair of jeans is never demode. Alaia is never demode. Adidas is never demode. An Hermès or Chanel bag is never demode. Nothing is demode for me, it's just a way to put the thing on, but when you see the bag 25,000 times and then they put it in the garbage because it's no longer of the season…it's ridiculous.
CM: And the volume has really only continued to grow, with your new collections for pre-fall and cruise.
CCD: Alaia — you can put on the dress from 20 years ago, and it is never demode. It's done for the body of the woman. It's not based on some reference of something else. It's about the cut, the femininity and the lines. So, it's never out of fashion. It doesn't belong to a season, it's forever.
CM: It's true that today there is always a reference.
CCD: Toujours! The photographers now arrive on set with boards, with old pictures from books or movies. You can be inspired without having to Xerox a photograph from a book for a film!
CM: What do you think about interactive images?
CCD: I like this, ca m'amuse moi ca. For example, if I didn't make it to a show, and I'm not able to see the collection in person where I can touch it…I go to style.com and I can click "move this image," and at least I see the thing. You see the girl moving in the clothes for 10 seconds, you get the clothes. I love this image in motion, bien sur.
CM: This is one of the few new things in fashion at the moment, and it's really exciting.
CCD: Why did people have ideas before, but they don't have ideas now? They redo all of the previous decades. People invented those things at those times. Why is nobody capable of creating new ideas now? The only one who does this is Alaia. He's the only one who does the new silhouette…and it's not crazy. He makes women look divine. You go to a party and you see a dress of Azzedine on a girl, she is the most chic girl in the room.
CM: Do you think this is because he doesn't operate on the same crazy, rapid schedule as the other designers?
CCD: It's because he loves what he does. He has this inside. He does it himself. He understands the body of a woman and how to make her the most divine she can be. This is something many designers don't think about.
CM: Again, returning to the elements of passion and instinct.
CCD: Going back to photographers, if you have instinct inside, it's easy, because it's coming out. To over-intellectualize the process, and spend endless hours on lighting when you've already set lighting up the day before, is ridiculous. Then they walk around like they've done something so incredibly spectacular. Penn was not like this. Avedon was not like this. Steven is not like this. Mario Testino is not like this. Inez and Vinoodh are not like this. Peter Lindbergh is not like this. Patrick is not like this. It's like cooking. I've never looked at a cookbook, you just make your own!
CM: What you are saying about some of the members of the newer generation is funny, because, ironically, there are more fashion programs offered now than ever before.
CCD: In the stomach one must have this! We have the luck to be born with this, the way a singer is born with a voice. It's something you have or you don't, basta.
CM: Is this why you like working with people with whom you have that chemistry?
CCD: Bien sur, bien sur. This is why it's marvelous to work with people with the same mentality. Nobody is coming in trying to be themselves a star. We each know what we have to do, and come together to create the most divine thing for the picture, not for any one person's personal glory.
Something I find so fascinating that exists now, that wasn't such a thing before, is the "casting director." You know who you like for girls, I know who I like for girls, and now you have this casting director in the mix. I hear these unimaginable stories. For example, as a designer, you create your collection, and have an idea of "your woman" in your mind. Then there is the casting director. The girls go to see them. They wait for hours. They don't even meet the designer. It's the casting director who decides, and then they take the credit as though they "create the girl." This is completely unimaginable to me.
CM: It's so interesting to hear this from you. The role of the casting director is definitely one that's become more present in the landscape of our business, and it's certainly not a rare thing for one to claim the making of a star.
CCD: Oui! I'm telling you, these days, everyone wants the credit. Everyone wants to be the star!
CM: I agree with that on many levels, but, at the same time, you do need someone in the middle. It's impossible to see every single model in the business. It is crucial at some points to have a filter.
CCD: Of course.
CM: What do you feel about the volume of models in the business now?
CCD: This is what I've been telling you. There are a million girls, a million designers, a million photographers, and a million magazines — but the real, talented people, there are not many. With models, it can be ridiculous, because so many have no idea how to give the picture. They don't understand their bodies, or the clothes. Some of the best ones are the ones who've worked with Steven Meisel, because he knows how to direct girls. He teaches them the craft when he shoots. So many photographers don't know how to do this. They don't know how to direct a girl.
CM: Do you think that lacking is the result of their young age, lack of longevity in the business, or something else?
CCD: When they come from Brazil, they know how to move, they have the joie de vivre because they are born this way. All of these young girls that come from Eastern Europe, and suddenly we are telling them to run here, run there, don't eat…what I find crazy is that they have these enormous hands and feet that are all red. You put one of these new girls with a new photographer, and do you think he will know how to direct her? No, no idea. You can see this happening in a lot of magazines today.
CM: This explains why so many new teams need a seasoned girl to give them the pictures, the girls who know how to move.
CCD: Darling, you have a great girl who knows how to move, you have the fashion of Carlyne, you have the hair of Oribe, you have the makeup by James Kaliardos…I don't want to be disagreeable, but it's hard to screw up the photo.
CM: The dream teams.
CCD: So many today have so much pride. The real people with talent, they are not like that. Every time I work, I'm always on the edge, wanting to make sure that it's something I will be happy with in the end. With lots of ENERGY and FUN as I, myself, am! Never sitting. Always on the set, watching, touching, judging!
CM: It's true, ego really blocks talent.
CCD: It's unimaginable, the egos today. Alaia, he has no ego. He's one of the nicest and simple people in the world.
CM: I think, for many people, the presentation of pride and ego is a way of creating a facade of prestige and influence that is an attempt to mask insecurity.
CCD: It has to be fun. With Mario, Patrick, these guys…we have a marvelous time! We work together.
CM: Was it always like that, even when you guys were first starting?
CCD: Mais oui! We were always like this. I adore people who are passionate. I love people who you can work with and make something sublime together. I am a classic eccentric, I am a rebel, I do what I want with PANACHE! I love life, I love real, I love fashion, I love nature, I love simplicity and I love FUN! Fashion has to be fun, this is what I always say, and is something I think we miss a lot now.
Related Posts: