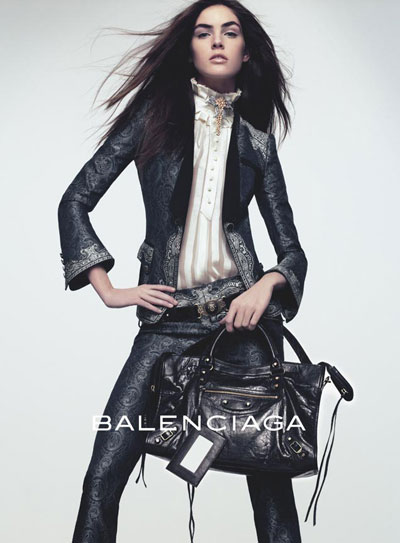 Hilary Rhoda/IMG. David Sims for Balenciaga S/S 06
Last Friday on a booking with Hilary Rhoda for Spur magazine, MDC conducted a quick Q+A with the charismatic 19 year old via a DV camera. Over the weekend while transcribing the tape what glowed through the lens was a girl so eerily beautiful in a classic and pristine way, it was like looking at a ghost shifting form between Dayle Haddon and Brooke Shields. It was the kind of beauty: classic, universal, touchable and yet dignified that holds the promise of a career meant to last over the long run. It is ironic then, that classic American beauty is beginning to feel like the new edge, the inevitable shift in taste to keep the fashion pages interesting.
It is even more ironic that whilst the majority of NY show clients obsessively stocked their cabines with those icy, remote beauties from Eastern Europe and Russia; Paris for the S/S 06 season scooped up this fresh, gorgeous American and set her center stage as a new blue chip star. Specifically that stunning All-American, Hilary, was cast by Balenciaga's Nicolas Ghesquiere for his show thus setting up a chain reaction that resonated from the opening slot of Valentino to the Chanel line-up. Ghesquiere and photographer David Sims went even further in the campaign by signalling that of all those coveted girls booked for the Spring Balenciaga, it was Hilary that felt the most representative by bequeathing her the only solo shot of the series. Now with the momentum of the Just Cavalli and Alberta Ferretti gigs as well as a schedule of editorial bookings stretching for three months non-stop, Hilary returns to NY for the Fall shows as one of the the most wanted models, right this second.
Yet the girl at the eye of a sudden storm of shifting tastes has clarity on her situation. "I thought being new, nobody would really care or pay a new girl that much attention, but people like make-up artist James Kaliardos really helped me a lot by introducing me around town. That's been the biggest surprise in the business for me" One suspects that for Hilary, she is in for a long career full of lucrative surprises.