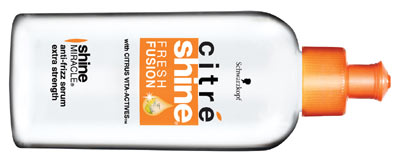 Now that the dog days of summer are here, all the fun in the sun is surely wrecking havoc to those pretty locks of yours. Here are some pro tips from the experts over at Citr̩ Shine to help protect your stressed out hair with products from their new Fresh Fusion citrus line that has a refreshing blend of key lime, grapefruit, mandarin orange fruit extracts and vitamins Рwhich equates to a tall glass of water for your hair!
1.) Before heading out in the sun, apply a small amount of Citré Shine Fresh Fusion Shine Miracle Extra Strength Anti-frizz Serum from root to tips, focusing on the ends. Brush through with a comb, and twist your hair into a knot to keep it off your back. The serum will work all day to fight frizz, add extra shine and protect hair from the harsh UV rays!
2.) Save time and money with an at home hair treatment like the Citré Shine Fresh Fusion Intensive Repair Deep Conditioner. Apply the conditioner from roots to tips. Then microwave a damp towel for one minute and wrap around the hair for five to ten minutes. The heat will intensify the penetration of the conditioner for shinier, healthier hair in an instant!
Your hair will thank you – for it never looked or smelled so good.
Available at Rite Aid, Walgreens and CVS