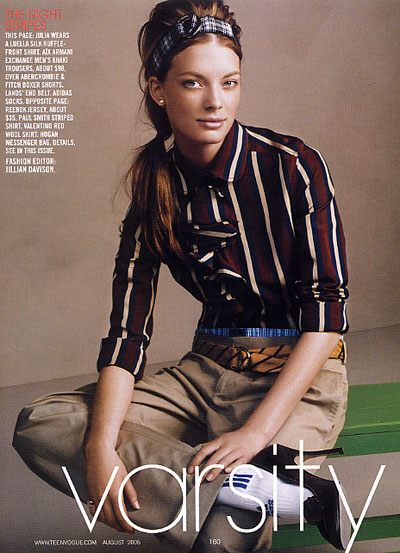 One of the new generation of Women stars Julia Dunstall. Ph. Teen Vogue courtesy of Women NY
For the past two weeks, the NY modeling scene has been abuzz with wild speculation regarding the current doings at Women NY. Last Friday MDC sat down with Chris Gay, new partner and C.E.O, and legendary founder Paul Rowland to set the record straight once and for all. In a perfectly frank yet civilized manner the new industry power team (heavy accent on team) essayed the message that the two meant business. Specifically that business was all about hinging the agency's uncompromising aesthetic to a perfectly honed business strategy . In order of rampant rumor, here are the details.
1. The kingdom of Women has NOT been split into two fiefdoms, one for Chris Gay at Women and the other for Paul Rowland at Supreme. As Gay succinctly defines it "Paul's influence will be felt throughout the agency as a whole". Given the fact that the 45 model Supreme board has been drastically stripped back to 15 models, Rowland outlined that the intention "was to bring Supreme back to the level of quality that has always been the signature of this agency. It's about representing exciting, interesting girls who give you a strong feeling of fashion." He continued "Women is secure. It's at Supreme that a challenge lies so that's my focus today. "
2. The rumor that the motive for the partnership was to merge Rowland's unmatched legacy for imaging models with Gay's well-established talent for corporate negotiation (especially on on those plush contracts) is pretty much accurate.
3. The presumption that two indiviuals with this much drive and ambition (and the ego that often-times come with the package) could not possibly exist was met by Chris Gay's cryptic smile. "There are things coming up that will prove this is going to be a very rewarding partnership for all involved." Suffice it to say the agenda seems to be to bring the agency to a primary position in the business, an agenda that is better served by a joint effort.
Politics and diplomacy aside , one thing is certain, with a full pack of new faces spilling out of the Women board for S/S 06, there's more than a few girls for this power team to put their masterplan to the test with. And such is the whim of the modeling trade. In an industry where change is the norm, the simple rule is …one evolves or dies.