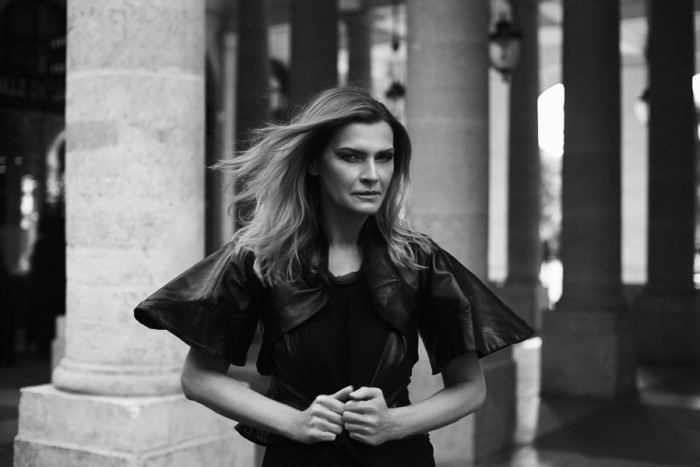 Images by Gianluca Santoro
The relationship between photographer and model is one of the most complex and interesting in fashion. With the proper exchange of inspiration and interaction great art can be created and in rare instances a truly dynamic relationship can be formed. One of fashion's best loved image-makers will always be Helmut Newton, his sensual and evocative photographs continue to influence and his legacy looms large over the current generation of photographers. One of Newton's most well known muses was Sylvia Gobbel, an enigmatic beauty with whom Newton shared a deep understanding and genuine rapport. In this special interview, Sylvia Gobbel looks back on her collaborations with one of photography's masters and the enduring power of those now classic images.
When did you first work with Helmut Newton?

SYLVIA: The first time I worked with Helmut Newton was for French VOGUE for a haute couture shoot. We were four girls dressed in haute couture (YSL, Dior, Chanel) on the left page and we took the same picture for the right side, same position, but completely nude…That was a revolution, the first time that VOGUE published nudes….some people were shocked, others understood the meaning: strong women are as confident dressed or nude….
What was his process like as a photographer?
SYLVIA: Helmut was a perfectionist. He put you in a very strong position for the shoot and you didn't have to move for hours. He always had a very fine sense for make-up, hair and styling. Make-up with dark shadowed eyes and red lips, always high heels for the style. He didn't like suntanned skin, he preferred perfect light skin for his black and white pictures.
He always surrounded himself with a crew, that completely understood what he wanted. He had a great sense of humor and if something went wrong, he preferred to joke about it.
Why do you think the two of you worked so well together?
SYLVIA: Helmut and I had our mother language (German) in common; we also both spoke English and French together. He could direct me in those three languages and I understood immediately what he desired. There was never a misunderstanding between us. He also liked my way that I moved and expressed myself in front of the camera. He liked strong women, who knew what they wanted and never were an object for men and were rather… dominating men.
What would you say is Newton's legacy today?
Helmut's legacy today for photography and fashion, is what we call today "porno chic". Sexy and strong women in fashion photography without being vulgar.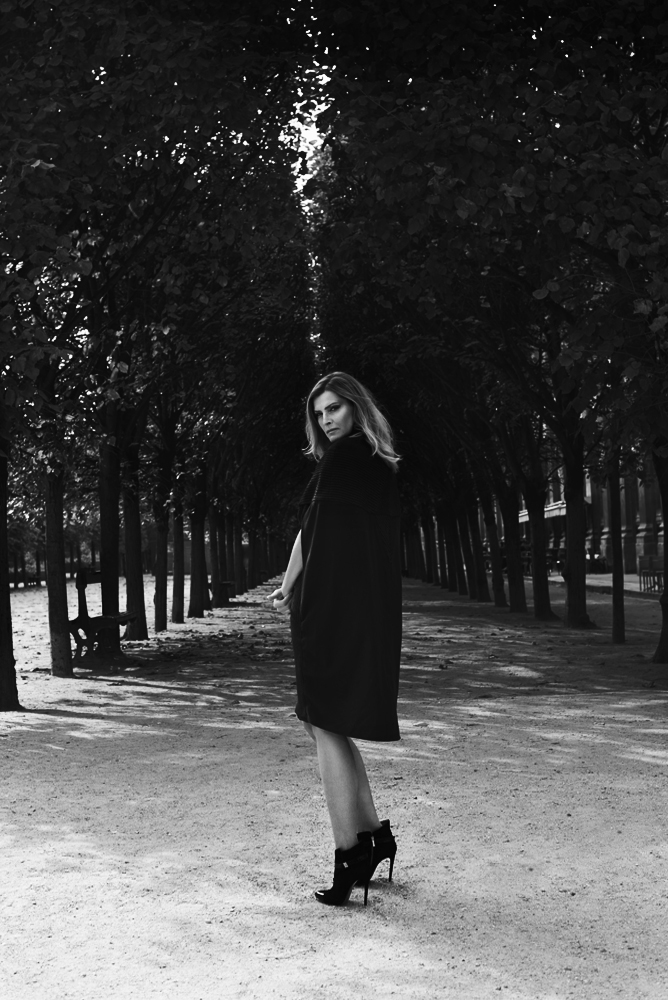 What are some of your proudest accomplishments as a model?
SYLVIA: My proudest accomplishment as a model was the shooting for the AMICA campaign, "the seven deadly sins" where I had to express myself in seven different ways, almost like an actress. Helmut wanted to book for that shooting the Italian actress Ornella Muti or me. So that was the finest compliment someone could tell me….
What was your favorite shoot or image with Helmut?
SYLVIA: My favorite picture of me taken by Helmut is the nude in front of the mirror with June sitting in front of me, watching and Helmut reflecting himself in the mirror while taking the picture. If I would have to keep just one picture, I would keep that one.
Tell us a bit about some of the other great photographers you worked with – Guy Bourdin, Oliviero Toscani, Peter Lindbergh, etc.
SYLVIA: I had the chance to work with some of the best photographers in the world. Gianpaolo Barbieri who loved to work with me, he is a real gentleman and we shoot very sophisticated pictures where I was often made up as a movie star, looking like Rita Hayworth. Guy Bourdin, great photographer too, not very easy to work with because he was a little superstitious. He could send a girl home because she didn't have the right star sign. Oliviero Toscani was very nice, we took pictures together quite often for French ELLE magazine, easy to work with. I also loved to work with Peter Lindbergh, who put another eye on me, less sophisticated, more natural. I had the chance to work here with Gianluca Santoro, who is a great photographer and sure one of the fastest "guns" in the business. he knows exactly what he wants and as soon as the picture is in the "box", it's done. No hesitations, no questionings, he's got "the eye" of the photographer, no doubt about that.