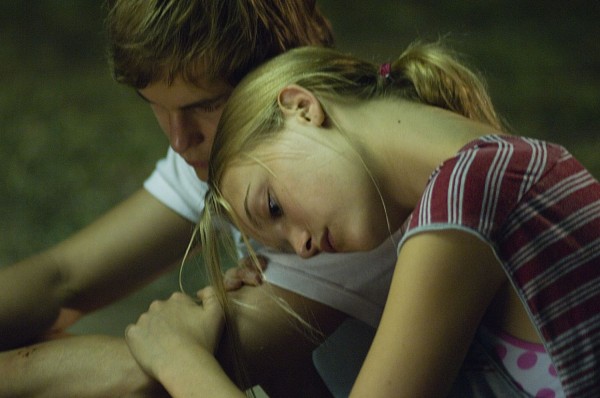 Image from The Black Balloon. Gemma Ward (Jackie) and Rhys Wakefield (Thomas)

During her brief runway hiatus Gemma Ward has been quietly building a unique acting resume; first with a memorable turn as a masked villain in the horror hit The Strangers and now a spirited performance in the Aussie indie The Black Balloon.
The Black Balloon is a heart-wrenching and at times difficult coming of age story about a young man's struggle to understand and accept his autistic brother. Starring Toni Collette, Rhys Wakefield, Luke Ford and Gemma Ward, the film is an engaging slice of suburban Australian life.
The Mollisons are a plucky army family who have just moved to the suburbs of Sydney. Middle son Thomas (Rhys Wakefield) is an affable yet insecure boy struggling to fit in at his latest school. While his parents prepare for the birth of their latest child, Thomas' responsibilities involving his brother increase. This change results in embarrassment and anxiety for Thomas who desperately wants to maintain the image of normalcy around his classmates – particularly the charming Jackie (Gemma Ward) on whom he has developed a crush.
The defining characteristic of the film is its honesty. In dealing with the effects of Charlie's autism the family (particularly Thomas) is tested. The film doesn't shy away from showing the difficulties and tribulations associated with caring for a sick loved one, nor does it glamorize or exploit Charlie's condition. There is an earnest quality to the storytelling – due in part to the fact that filmmaker Elissa Down based the film on her own experiences growing up with two autistic brothers.
The performances are stellar, particularly Collette as the boys' unflappably upbeat mother Maggie and Gemma as the object of Thomas' affections. When onscreen, Gemma radiates star quality. It's hard to believe that shy and affectionate Jackie is the same girl who has vamped down international runways for the past five years but Gemma disappears into her character. Many models attempt the transition into acting but few manage to make their mark on the big screen in such a charming way.

"The Black Balloon" Now Playing in New York & Los Angeles