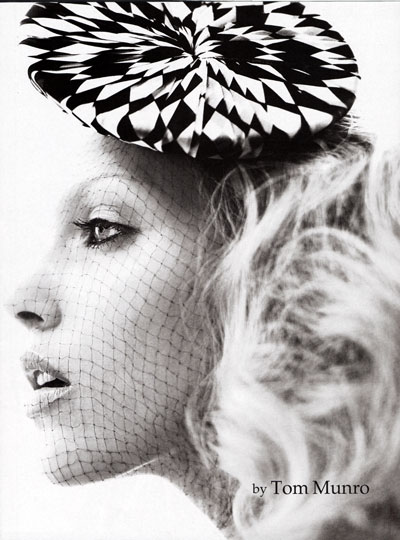 Anja/Next Ph Tom Munro for Vogue Italia Sept 06
21 year old Polish beauty Anja Rubik is the latest member of the very selective circle of Estee Lauder faces and that blue chip company could not have chosen a more pristine girl. Whereas a lot of models are photogenic and punctual and professional and all the other warm and mild qualities typical of latter day mannequins, few resonate the star making charisma that marked the 90's ideal of supermodels. And yes, Anja is very much a part of a more discrete generation of models that understands that their role is to be blank screens for the right designers, photographers and editors to project an ever shifting vision. A model is now a niche proposition, not designed anymore for mass market consumption but bred like exotic orchids in the increasingly detached hothouse of high fashion. Orchids, that is, with very short lifespans.
But on that late summer morning when OTM caught up with Anja at of all places, a Virgin Superstore cafe on Union Square this girl glowed with the kind of presence that was distinctly super-model era. Heads were turning, NYU freshmen congregated conspicuously at nearby tables and Anja radiated with a charm that was very private, very controlled and totally exquisite. Was it a new burst of confidence and self-assurance via a blue chip cosmetic contract? Or was it because it's been literally years since we had this articulate a conversation with a model who clearly loved fashion not only for its fabulousness, but for the opportunity it has given her to manifest her ambition. After our morning tea meeting was done, soundtracked as it were by the oddness of Prefab Sprout's "Goodbye Lucille No 1" in the background, the strange thought hit. Anja Rubik is going to be one day, iconic.
MDC: How long have you been modeling for Anja?
AR: Full time it's been three years now. Before I lived in Paris. I was attending a British high school so I kind of modeled during the weekends. But since 2003 I've been totally full time as a model.
MDC: I do remember your career starting in a very Paris-based- high-editorial manner…shooting a lot with Inez and Vinoodh for instance.
AR: They helped me a lot. I shot with them in W… Italian Vogue…French Vogue.
MDC: Did you envision that a blue chip contract like the Estee Lauder would emerge so early in your career?
AR: No! Of course you think about it because it's one of the dreams of any model. 'one of the best things that you can get. Especially since you don't get it very often. There's a lot of companies out there that will only take girls for a short time. It was just being around at just the right time. A gap opened and they decided to take someone new. It's a lot of luck.
MDC: What was the process like on the Estee Lauder?
AR: The process was really long. The first time I heard I was being taken under consideration was…I think December last year. They had already started seeing girls but I didn't get to see them until January 2006. I had to go in to see Doug Lloyd who takes care of Estee Lauder and I went into an interview with Aerin Lauder, then I met with different executives and waited to hear back. Then they narrowed it down from maybe 25 to 5 and then down to 2 and until finally I was the lucky girl.
MDC: You'll be representing an Estee fragrance?
AR: Well I'm under contract to be available for whatever they think I'm appropriate for but the first thing coming out is set to be a fragrance. I'm very excited about all this because it's such a great company. It's a family business and they are such a decent and loyal company. People stay with them for years and everyone within the company is well taken care of. I feel really grateful to become a part of their team.
MDC: You have a great sense of the business behind the gloss Anja which is very rare
AR: I was always interested in the modeling world. When I finished high school in Paris I kind of started working in Paris I was doing very small jobs…catalogs and things like that just to pay off my debts. When I was in the British School I was actually supporting myself. I went back home and I thought…. OK now either I go to University or I give modeling a try and I always wanted do this. So I came to New York and I put my all into it. I really looked at the work of the different photographers and tried to imagine what I could bring to their pictures. One of my biggest ambitions was to work with Richard Avedon. It was one of my dreams and I regret that I never got a chance to have a sitting with him.
MDC: He would have lit you like a goddess I'm sure. Now you have the golden ring are you cutting back on the amount of work you do?
AR: Runway wise I'm still doing shows. There are the big designers who have such exciting shows that I love being a part of and there are the cool smaller designers who I really like who I still love working with.
MDC: Well thank you so much Anja for taking time out of your mad schedule. It's such a joy for us to sit down with a girl who actually has such a sharp sense of her role within the theater of fashion.
AR: Oh. That's sweet. Thank you so much for all the support at Models.com.