Du Juan/IMG. Roberto Cavalli Fall/Winter 2006
Beauty is one thing but to move in the spirit of elegance, whether on camera or on the runway is a blessed ideal in a model. As early as October 2005, power editor Carine Roitfeld called it when she annointed the 19 year old Chinese beauty Du Juan with fashion stardom by placing her on Paris Vogue's cover alongside Gemma Ward. That piece of fashion forecasting found its campaign justification when this uncommonly beautiful new model emerged from the very selective booking frenzy of the FW 06 season with a rare triple booking. Du Juan scored slots in the Yves St Laurent and Roberto Cavalli campaigns, as well as Louis Vuitton , a feat all the more impressive, given how unwelcoming the FW 06 campaigns has been to new faces.
The child of architect parents, Du Juan proves that elegance is indeed the ultimate sell in modeling, right this minute. The quiet and composed alumni of the Shanghai Dance School revealed a poetic spirit to match her stunning face as she shared with OTM her thoughts on the question of her aborted dancing career. " I grew too tall…That is in fact how I got into modeling. I was dancing at the Shanghai Dance School but then I got too tall and it was very difficult to find a suitable partner for me and people suggested I try modeling. Dance will always be my first love and I still dance when I am alone in my apartment for hours and hours."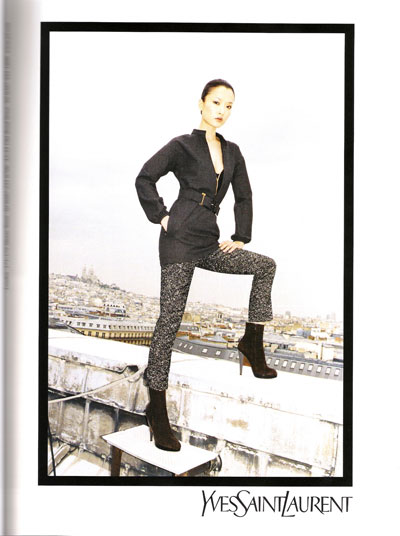 Du Juan/IMG. Yves St Laurent Fall/Winter 2006
But make no mistake, this girl of the minute instinctively understands her part in the machine of a fashion shoot. "I love and enjoy the creative spirit and team work around the business… the appreciation of all these great images I see…the great shows that are a collaborative effort with so many people who are so passionate and dedicated involved. It gives me a buzz to be part of that and it is very inspiring to be around that." Expect our beloved Du Juan to be a girl most wanted come the September show season. Stay tuned.