Posted by Stephan Moskovic | February 2nd, 2010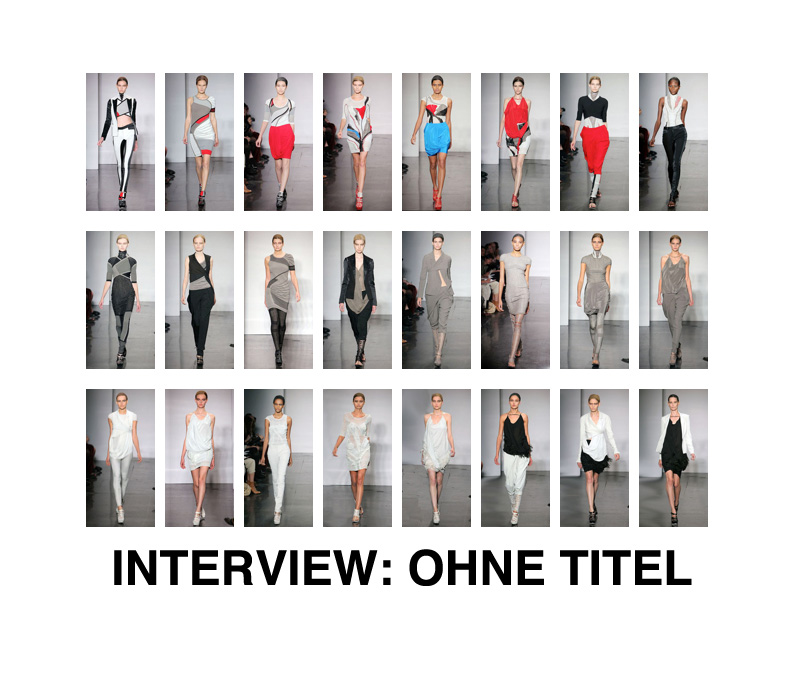 Fashion designer Leila Ligougne sits down with Alexa Adams and Flora Gill, the creative forces behind Ohne Titel, for a special Models.com interview. With a personal connection to the designers – Leila has worked with Flora Gill and saw first-hand her passion for knitwear – Leila gives us an insiders' perspective on the evolution of this exciting brand.
Adams and Gill began their careers as fashion obsessed students at Parsons and since their fateful meeting freshman year, the duo has risen through the ranks to become two of the industry's premier design talents. Noticed early on by Valerie Boster of Vogue, who recommended them to Sally Singer and Jane Herman, their critically acclaimed label focuses on well constructed clothes with organic details, contrasted with strong sharp elements to create a sexy and modern silhouette. In just six seasons the duo has already garnered a CFDA nomination, an Ecco Domani Fashion foundation award for womenswear and a loyal fanbase.
While they are riding high on a wave of success: their dynamic Spring collection has been featured everywhere from the pages of Vogue, to MDC's own Lyndsey Scott portrait, Alexa and Flora have no intention of slowing down: they share their ambitious plans for the future, as well as their current inspirations, all in our exclusive interview.
Interview by: Leila Ligougne for models.com
Photos:
Portraits and SS/10 lookbook Courtesy of Ohne Titel
Photos from the Lyndsey Scott Portrait by Pascal Perich (for models.com)
I think you met at Parsons, what was your relation then?
FG: During our first year at Parsons Alexa and I shared every class together. On our first day we were told to sketch whatever we liked and pin it on the wall. I remember immediately noticing Alexa's picture and then talking to her. After that we started working together.
AA: I also remember Flora's work form that class, these amazing sweaters and dresses built around the body shape of old women. Looking at her work I knew that she was someone I could learn from and compliment..
Did you already enjoy working with each other then, or is it an idea that crossed your mind later?
AA: We started collaborating within a year of meeting. Our personal aesthetics are actually quite different, but from the beginning we both were very open to collaborate and found that combining our interests created something entirely new.
FG: I inspired Alexa to use more color and texture and she inspired me to explore volume and silhouette. We stood out from a lot of the other students because we experimented when we designed. In school, I would often knit or make an embroidery treatment swatch with unusual materials, and Alexa often draped mini-samples to play with body shapes.
I love that, it sounds very inspiring and the mini drapes make me think of Vionnet… So you noticed each other at Parsons, pretty much on the first day, then you each had different work experience… Tell me a little bit how "Ohne Title" all started?
AA: At Parsons, we took fashion classes together and started collaborating on projects. A few years later we reconnected at Karl Lagerfeld, where we both worked on the collection and got comfortable with designing together.
FG: After working at Karl, I thought it would be the best time to start designing my own line. I had started researching and sketching and then talked to Alexa who had started on the same process. We critiqued and shared our sketches and decided we would make something stronger if we collaborated. It seemed a natural partnership because we compliment each other's strengths, but we are also very different.
Did you always know you wanted to be designers? some people say that they already had connection to design when they were young, is it your case?
FG: I've always known that I wanted to be a designer. My parents are artists so I was always surrounded by creative people and was encouraged to explore and design. My grandmother put my father through school by making tailored clothes for people with unusual bodies. From her I learned about pattern making, sewing, knitting, and crochet when I was very young.
AA: I was also interested in design art, and clothing from a young age. I remember being in 1st grade and designing sandals that would transform into different shapes and heights depending on how you fastened them.
What is your earliest memory of wanting to be a designer?
FG: I was telling people that I wanted to be a fashion designer in pre-school, so I can't remember the actual moment when I made this decision. I do remember when I was about 12 when I had an epiphany about my design aesthetic. I started experimenting and making my own textiles using unusual materials and craft techniques to make distinctive pieces.
AA: For me it was less a first memory of being a designer and more about wanting to look distinctive. As a child I would take large men's clothing pieces and then either pin or sew them into folded shapes for myself. The idea of myself as a kind of visual test subject is the first way I related to fashion.
You only started 6 seasons ago, you have done very well when you think of all the designers who try every year. What was the first thing that you did that got you noticed?
AA: We started with a small capsule collection which we showed in a gallery in Chelsea. An artist friend of ours made video projections of some of our pieces on the wall in one room while we showed press and buyers the physical clothes in the other room. As we had worked on creating these unique textures on a lot of the pieces we wanted people to be quite intimate with the clothing, to touch it and see every detail.
FG: That first collection was noticed by Vogue. Valerie Boster came and recommended us to Sally Singer and Jane Herman, who then wrote an article about us. I think that really was the springboard of how we grew.
I like how textural your clothes are, very interesting and unique. What would you say is your creative process?
FG: We start with researching fabrics and textures and finding inspiration for silhouettes and techniques. The process is totally shared. We'll draw and then switch drawings and draw around the other's ideas.
AA: So much of what we do is collaborative, whether its discussing a certain visual feeling that informs the collection or putting our research together in surprising combinations. Sometimes the best work comes from a long process of back and forth creation.
How would you describe the women who wear your clothes? do you have a muse?
FG: The woman who wears our clothes has a very strong personality and look. I've always wanted our clothes to accent or highlight various women rather than squeezing them into a pre-conceived mold or ideal.
AA: Our only "muse" is ourselves. We have an instinctive relationship between what we design and how it feels and looks on the body, the overall aesthetic impact, and the world we create with our clothing.
What would you say defines what you do, your style, and in what ways does it differ from anybody else?
FG: What usually sets us apart is our re-imagining of traditional craft techniques. We often experiment with macramé, basket weaving, braiding or crochet using innovative and unexpected materials to create unusual textures.
Not surprising that you already won the Ecco Domani Fashion foundation award for women's wear last January and you have been nominated for the CFDA award. How does that feel?
FG: It is such an honor to be recognized for our design when we work so hard. We were ecstatic to be nominated for the CFDA Vogue Fashion Fund, It is one of the highest honors that an emerging label can get.
AA: It's been really exhilarating to be nominated both for the CFDA and for Swiss Textile Award. It is gratifying to been seen by a wider audience and put in such great company with the other nominees.
"The woman who wears our clothes has a very strong personality and look. I've always wanted our clothes to accent or highlight various women rather than squeezing them into a pre-conceived mold or ideal."
"When the collection comes together before the fashion show I can see fully how our initial research has morphed into actual design and clothing. There is something almost magical about the process."
What is the hardest thing you have to do in your job?
FG
: Because we are so new, the hardest part is splitting our concentration between design and business. I'm happy to learn about budgets, sales and production, but in a perfect world I would love to focus on design and inspiration.
AA
: One of the hardest aspects is working in a weakened economy. While we have been fortunate to be growing with recognition and sales we have to think creatively about the best way to offer value and something distinctive to our customers.
What is the most gratifying aspect?
AA: For me it is watching the creative process unfold. When the collection comes together before the fashion show I can see fully how our initial research has morphed into actual design and clothing. There is something almost magical about the process.
FG: The most gratifying aspect is seeing someone wear the clothes. Recently, I saw a woman outside of the Louvre wearing our cardigan and a fashion editor wearing our suit to a party. They were totally different settings and outfits, but each woman had such a strong look.
I know that it always feels great when you see someone wearing your designs, someone who likes them and who puts them to life. In addition, that was on another continent! On that note, what does NY mean to you?
FG: NYC is full of interesting people that are very driven. I love living here because of that energy.
AA: NY to me has always been the place to go out on your own and create. NYC has a very open minded aspect where you can do or be whatever you want to as long as you have conviction.
What do you find exciting in the fashion world?
FG: It is an amazing time to be a new designer. There is a need for change in the air. People are noticing younger labels and those brands are making some of the most interesting collections. I feel there is a new garde forming.
AA: I also like the idea that we are in changing times right now where fashion is much more open to collaboration and changing formats reflect our culture or technology. We've started experimenting with video as a way to further flesh out our the collection and our overall aesthetic.
Is there a part of your day that you prefer?
FG: This may sound odd, but I love being at work after 5pm. The workday is taken up with so much business, after 5pm I get to design and create without distraction.
AA: I love walking home from our studio in Chelsea on the Highline as the sun is setting, and looking out over the city skyline.
What are your aspirations?
FG: Starting my own label was always my dream. I hope our business will continue to grow so that I always have this creative outlet.
AA: We will definitely design more accessories and expand to resort in the near-term future. Eventually we would like to expand into menswear, beauty, and fragrance with our own stores.
Thank you for this interview. Can't wait to see the FW/10 collection showing in New York next week!
"It is an amazing time to be a new designer. There is a need for change in the air… I feel there is a new garde forming."

Ohne Titel's Flora Gill and Alexa Adams
Related Posts: