April 16th, 2015 by Irene Ojo-Felix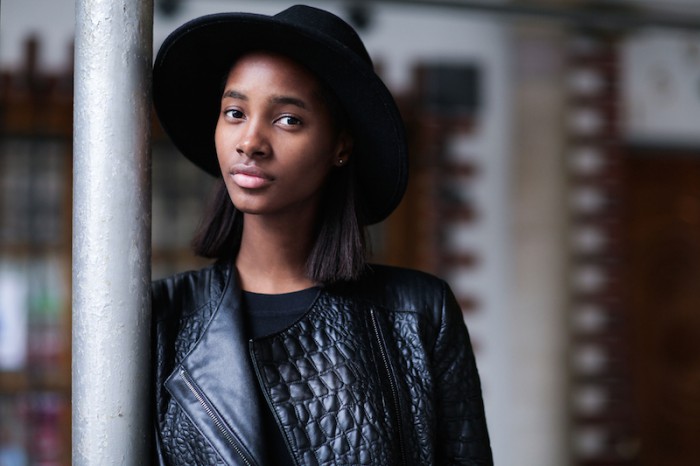 Tami Williams photo by Betty Sze for models.com
"It is not in the stars to hold our destiny but in ourselves" (William Shakespeare). Embodying that steadfast resolve stands rising star, Tami Williams, who knew early on exactly what she wanted and persevered until her dreams became her reality. The Jamaican, statuesque stunner walked in an impressive 42 shows this past runway season (her 3rd) from Marc Jacobs to Alexander McQueen capturing the attention of many with her poised presence. Her recent editorial work in American Vogue showcases her with the best in the business from Peter Lindbergh and Craig McDean to Grace Coddington. What her images and runway jaunts fail to show you is her sweet disposition and charming humbleness or her appreciation for all the talents that make fashion happen. Tami talked to us about unleashing her brilliance when she's in front of a camera, her first runway experience, and what's keeps her grounded.
Where did you get your start? How did you get discovered?
I was discovered in Jamaica at the age of 11 but I was too short. So my agent told my mom to have me come back at 13; I entered a competition called Fashion Face of the Caribbean and won second place.
Did you ever think about being a model before that?
Yes, since I was young I always thought, "I want to be a model!" Naomi Campbell was the first model I saw that inspired me to become a model; that era of supermodels completely changed the world of fashion. My mom finally told me one-day "OK, you really want to be a model? I'm going to take you to Deiwght (Peters of Saint International)". That's how he found me.
How are you juggling your career while still going to school? Does your schedule ever clash?
As of yet it hasn't clashed too badly. It's kind of challenging but when I'm home I attend extra classes so I can catch up on things that I may have missed when I wasn't in school.
You had a great season! What was your favorite show to walk in?
I don't have one favorite! I have a lot of favorites. It was a pleasure walking for Calvin Klein as I love Francisco's designs. I've truly loved being able to walk for so many designers and travel at this young age because everyone doesn't get this opportunity.
What was your first show?
My first show was Alexander Wang as an semi-exclusive. At first, I was a bit nervous because it was my first show ever but during the show I was so happy and thankful for that moment. It was a good feeling.
Are there any designers that you really love to wear?
It's amazing to get the chance to wear beautiful things and travel but I recognize it's a privilege thanks to my job. I love accessories, especially handbags! I'm still more the little girl that would dress up in heels.
Where's your favorite place to go in the World?
Paris! I love the Tuileries and shopping at the Champs-Élysées!
How was it being on location with Peter Lindbergh and Grace? Was it a difficult location to shoot in? How was the mood of everyone?
Firstly, I couldn't believe when I got confirmed because my dream was always to be in the pages of American Vogue. Every shoot is a great experience and I was so excited to be working with Peter Lindbergh and Grace Coddington. Grace is really a sweetheart and she made sure I was comfortable on the shoot. The mood was all happiness. We all knew what it meant to be shooting for American Vogue. For me, it was like a dream. The shoot was extremely fun and it was amazing to shoot with such an amazing team and models, including one of my best friends Kai (Newman) who is also from Jamaica.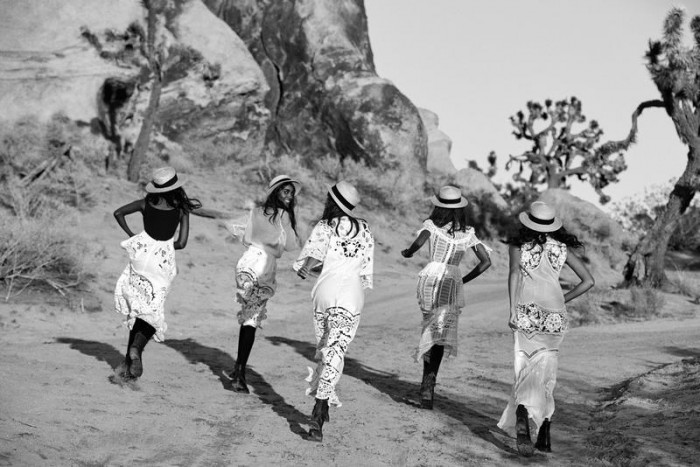 Peter Lindbergh for American Vogue
How do you feel about your recent single girl shoot with Craig McDean for Vogue? How was the atmosphere working with him and Grace Coddington?
I really feel extremely blessed and grateful to have had the experience of working with Craig and Grace for American Vogue, especially for a single girl story so early in my career. Working with Grace again was really good and I learned so much from her. They are all clear on what they wanted and how the shot will look. They are very hard workers and I have so much respect for them. The atmosphere on set was very comfortable and nurturing. Sometimes I pinch myself and wonder if this is really happening.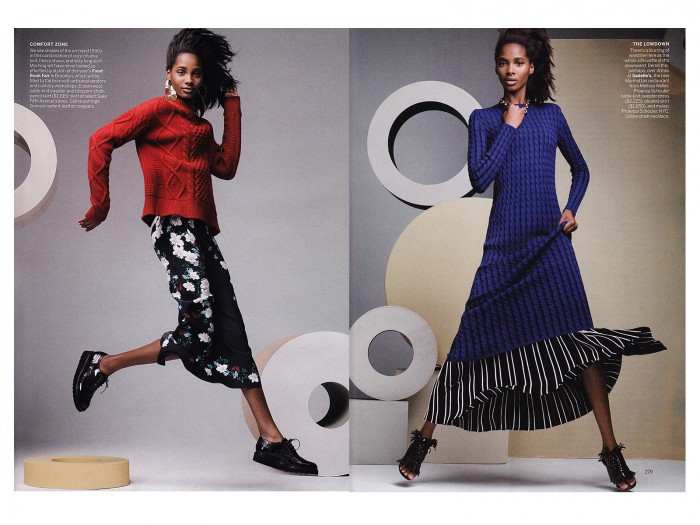 Craig McDean (Art + Commerce) for American Vogue
What's one thing about you that might surprise people?
I like making people happy and making others smile. I have four sisters and I'm the second born. My sisters tell me "I want to be like you when I grow up" so I feel good that I'm a role model not only to people on the street but for them too. It means a lot to me.
What's one thing you want to accomplish?
I would love to get a cosmetics campaign. It would be such a huge honor to represent the brand as one of their spokespersons because it reaches a broader audience. I hope one day to get to a level where I can use my voice to help others in need.
Who do you admire the most?
I would say my family and my mother agent because if it wasn't for them pushing me, I wouldn't be where I am today.