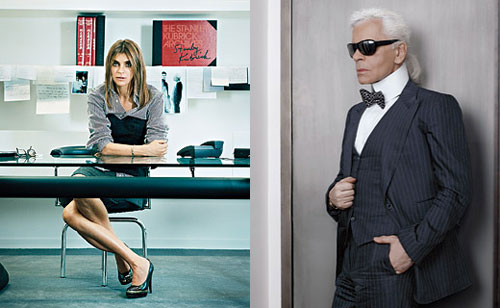 Photo: Carine Roitfeld by Roberto Frankenburg (Corbis), Karl Lagerfeld by Karl Lagerfeld
On Time's 100 most influential people list, that is. With Carine's paragraph written by Hedi Slimane and Karl's by star-chitect Zaha Hadid, 2 of the industry's most acclaimed faces gets recognized on a list that includes the likes of the Dalai Lama and Oprah Winfrey. We love when fashion icons get acknowledged for their inimitability especially ones with as much class as Carine and flair as Karl. In Time's Readers' Poll, models turned business titans Heidi Klum and Tyra Banks get the nod from their readers (#4 and 5, respectively).
To read their Time page, go here: Carine, go here: Karl.
Related posts:
This post's tags:
Carine Roitfeld
,
Hedi Slimane
,
Heidi Klum
,
Karl Lagerfeld
,
Roberto Frankenburg
,
Tyra Banks
,
Zaha Hadid
One Comment
Post a Comment:
Related posts:
Get all the latest scoops first, follow us on:

twitter: @models

models.com on facebook

email newsletter