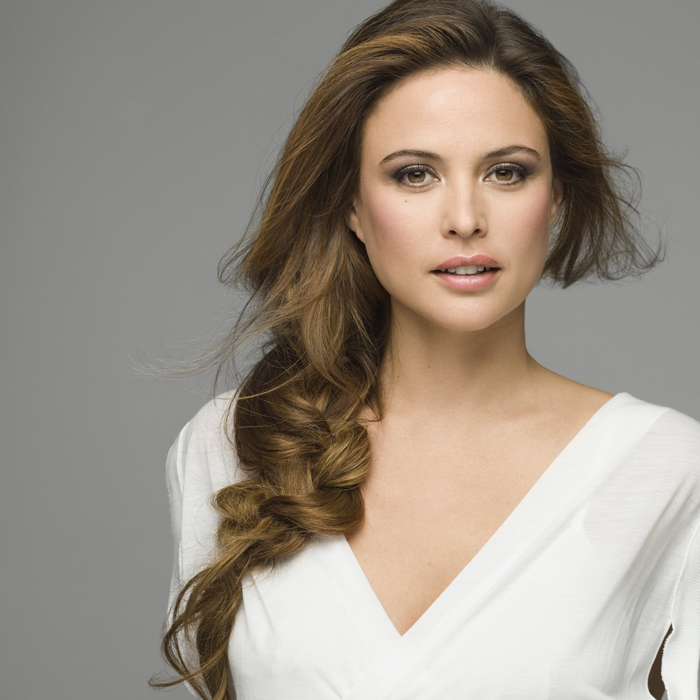 Within the world of beauty, Josie Maran is an enduring fixture. As the longtime face of Maybelline New York, Josie came to define beauty for an entire generation of girls and as an entrepreneur she is making strides to change the practices of the industry. Her eponymous line of cosmetics, is "eco-chic" and made without parabens and phthalates in an effort to offer consumers responsibly made products that can keep them looking beautiful. MDC talks with the budding mogul to find out her makeup tips, what inspires her and how she made the leap from in front of the camera to behind the scenes.
MDC: What made you want to branch out and create your own line of products?
Josie: It was the birth of my first child. Becoming a mother inspired me to take a look at my life and ask, "What can I do for the world? How can I contribute?" Having spent so many hours in the makeup chair, I was ready to create my own signature line, Josie Maran Cosmetics. When I was pregnant, I became more conscious than ever about the ingredients and products I put on and inside my body. It inspired me to produce a line of cosmetics that was safe—paraben and toxin free. My products are made with superior ingredients and housed in chic, biodegradable packaging, ensuring that we embrace eco-friendly initiatives wherever possible.
MDC: Tell us a bit about how the products are made – since the line is all natural / free of toxins
Josie: Josie Maran Cosmetics is "cosmetics with a conscience" – fragrance free, sustainable, paraben and petrochemical free, organic, cruelty free, natural, biodegradable, and recycled.
Josie Maran Cosmetics is a complete collection of pure, natural and evolved cosmetics that is chic, luxurious and beautiful. I look for new, undiscovered ingredients. I always make sure they are good for people, planet and are effective. My favorite ingredient is Argan Oil. My philosophy is less is more—the less ingredients and additives, the purer the product—so I had to include this 100% organic ingredient in my line. Argan Oil is pure and eco-certified.
My formulas are created with natural, organic, nontoxic and gentle ingredients (including avocado, coconut, flax, jojoba, olive, soybean, beeswax, cocoa butter and shea butter), as well as innovative proprietary formulas that allow them to look and feel high-end.
Even the compacts are made of a corn based plastic (PLA), the lipsticks and concealers are all housed in aluminum, the argan oil bottled in glass, and the outer boxes are made from 30% recycled stock and soy ink.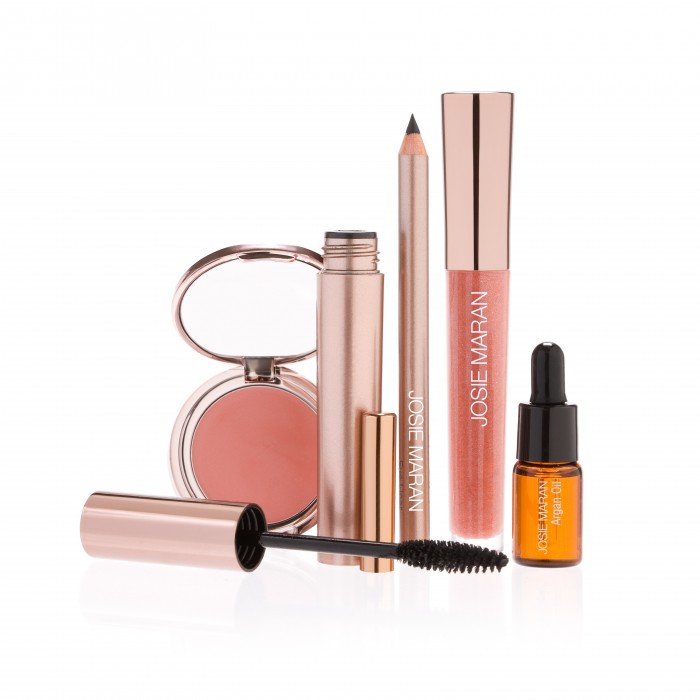 MDC: What is the most rewarding part of your job?
Josie: The most rewarding part is knowing women will be getting healthy beauty products. When I launched Josie Maran Cosmetics, I wanted to contribute to making a positive change, and I also wanted to create something fun, beautiful and luxurious. My dream is to build a brand with so much influence and popularity that my customers and I can work together to make the world a better place. I am very strict when it comes to ingredients and I am creating a line people can trust and feel good about on the inside and out.
MDC: What are your personal favorite products from the line?
Josie: My absolute favorite product is of course my 100% pure organic Argan Oil. It's the ultimate multi-tasking product. I use it as a daily moisturizer; to heal rough cuticles, fix split ends, and more!
Also, I really love my new Argan Matchmaker Serum Foundation for its amazing chameleon pigment technology. The foundation goes on white, but turns into your perfect shade as you blend into the skin. It's magic! Plus the formula has anti-aging Argan Oil to hydrate and smooth fine lines.
MDC: What are some tips you've picked up over the years from makeup artists and other experts?

Josie: When on location in the South of France, I met a beautiful older woman who had the most gorgeous, healthy looking complexion. I asked her what product she used, and she shared with me the beauty secret of Argan Oil. Since then, it's been my favorite beauty product.
You can achieve a natural look using tinted day-cream instead of heavy foundation. Then go in with a concealer to cover blemishes. For small areas use a pointy brush. This way you can place the concealer where it is really needed.
For every like Josie Maran Organic Argan Oil gets on their Sephora.com page the brand will donate $1 to Women's Earth Alliance