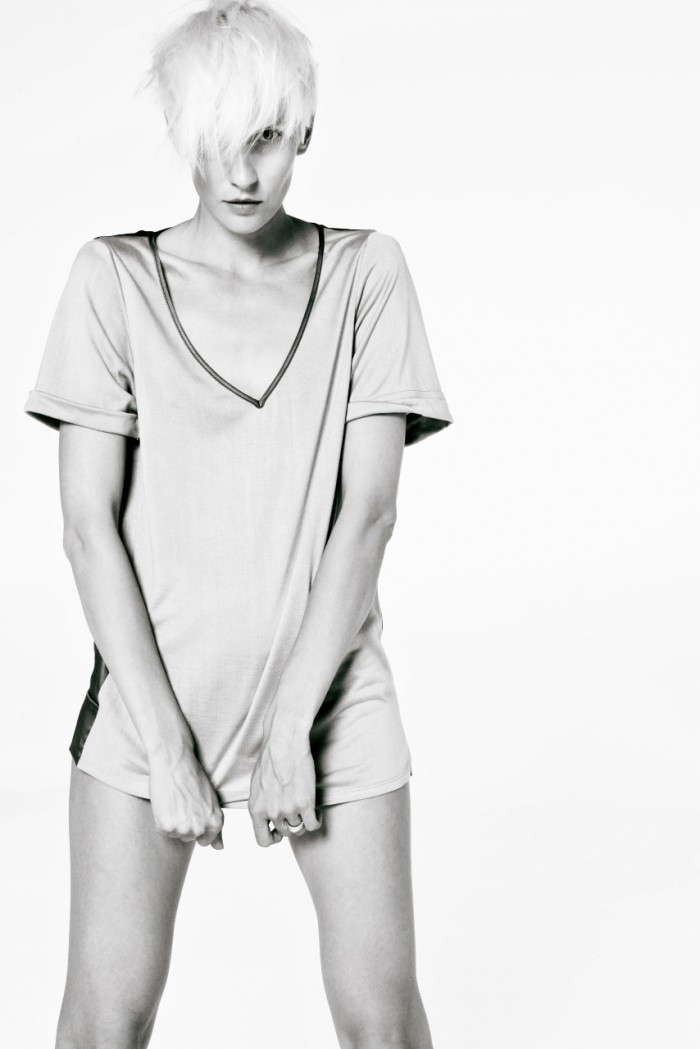 Katia in her own design for Kokotish
As a top model Katia Kokoreva has worked with some of the industry's foremost design talents, but with Kokotish, her new line of tops, Katia steps into the other side of the industry as a businesswoman. The expertly crafted collection of ultra-soft washed silk shirts is already generating buzz in fashion circles and has already garnered a following. MDC catches up with the model turned designer to talk influences, personal style and the importance of quality above all else.
MDC: How did you get your start in modeling?
KATIA: A friend of mine had seen this commercial and she brought me to a modeling agency. I was 14, I was still in school so I had to miss one day of school but I didn't tell anyone. I went to the agency and they took me right away, they liked me and then I finished school and little by little I started to work. Good for me! Then I went to Tokyo, Paris, Milan and New York was actually one of the last places.
MDC: Is design something you've been interested in all your life?
KATIA: Absolutely. As models we have the privilege of seeing the making of a dress from scratch. I've always been interested in that, seeing things develop from a drawing, to a little piece of fabric and then they put it all together and all of a sudden it is this beautiful dress that they put on you. As I got older I started to think about doing something of my own, one reason was because I couldn't find certain things. I couldn't find the tops I liked in stores, something that I, or my friends would wear. It was so difficult, then I said to myself "let me try to create something that is mine and see how far it goes." So far I've been satisfied and people like it.
MDC: What would you say is the best part of stepping into this new side of your career? It has to be a new exciting adventure.
KATIA: The best part is when someone comes to you and says 'Oh my god, this is amazing!' because when you're creating it you don't really know if people will like it or not. Once you get some feedback from people that care that is an amazing feeling. I think that's what I like the most.

MDC: Do you think that working with all those great designers over the years has influenced you in some ways?
KATIA: I wouldn't say it is the influence of each designer, it is the way that they work that really inspires me because they're all different. With my own personal style I try to mix everything together; I don't have a classic style, I don't have a rock style. I feel like looking more feminine, I'll wear a skirt. If I want to be a tomboy I just wear a pair of boyfriend jeans and a nice top. The experiences that I've had with different designers has definitely shaped me; you learn how to mix accessories and shoes from some fashion's greatest geniuses.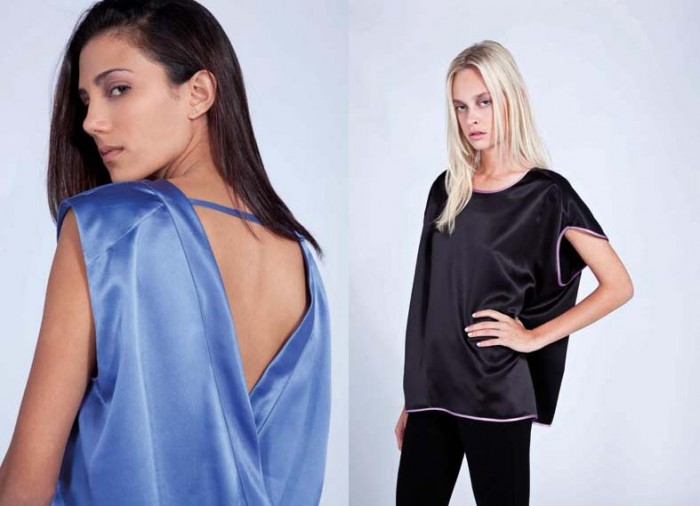 Looks from the S/S 11 collection


MDC: What made you choose to have everything made in Milan?
KATIA: The focus of my company was quality and because I live in Milan I felt that it would be easier for me to manufacture everything in Italy, so I found this great factory who does everything for me. I feel like that is the most amazing thing because once you see the fabric that I use, or a little detail like seaming, the way that they put together things just is different from everything else. If you put on one top that's been made in Italy and you put on one top from somewhere else, you're going to see the difference.

MDC: You can tell the quality difference…
KATIA: I don't see the reason why anyone should have to pay a lot of money for something that you know was not made well. Basically, you're just paying for the brand name. I don't have a brand name yet because I'm just starting but at least I can give people quality and satisfaction.

MDC: I definitely think that that is something that people value especially right now, people want things that are going to last.
KATIA: That's the most important because I wouldn't lie to my customer, I wouldn't sell them something that has been made somewhere else."

MDC: Are you selling primarily in Europe or will you be selling in stores in New York as well?
Katia: Well for now, we're going to sell online in January because it's for the spring/summer collection. I think, little by little we will see who is going to pick me up. I just think that it will be easier for people and if there are any questions it gives me a chance to respond. I would love to have feedback especially in the beginning, it's very important. I'm very open to advice from anyone, from my friends, from my future customers, if they are not satisfied with something I would like to know that because I think that it helps to make my future collections better.
MDC: So many designers are trying to jump into online so I think that it's smart that it's smart to start there so that you already have this experience. It opens up a whole new world.
KATIA: Yes, I found that out the day after I launched my collection. This interview in Vogue Italia came out and when I checked the email on the website I had received all of these emails from Canada and Japan! I was just so shocked that people actually know me all over the world.