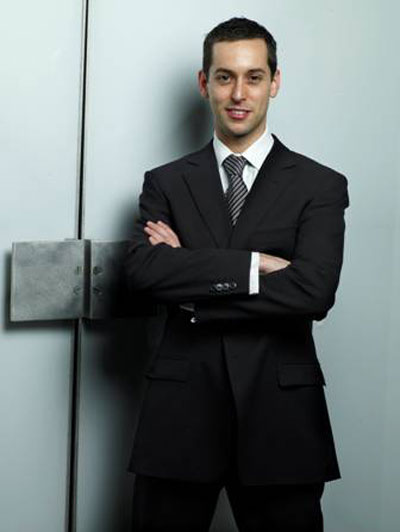 Sacha Flisi/Bolthouse Productions.
In terms of nightlife values, something frequently gets lost in translation between NY and LA and in that vacum are connectors born . An East Coast newcomer can often times feel like David Bowie in "The Man Who Fell To Earth" when left unsupervised on the night streets of Los Angeles. In fact lack of supervision is what led this punter to the suave Sacha Flisi when we were dragged out for some local nightcrawling . A year later OTM caught up with Sacha at Mauro's Cafe where we watched as he worked a crowd still stoked from the success of a massive bash at Magic Mountain which seems to have drawn every Page Six starlet worth her weight in Starbucks lattes. Here's the intelligence our favorite LA "connector" had to share.

WS: Sacha, could you tell us a bit about your role at Bolthouse and how you came to work in this particular business.
SF: I joined Bolthouse in January '04 two years after arriving in Hollywood. My first job had been as an assistant in motion picture talent at Creative Artists Agency (CAA). That experience led to LA Models; eyeing the success of the model-turn-actresses, I thought it made sense to build up the crop of fresh faces from the model side first.
Brent approached me to join his company because I was able to bring new models and young tastemakers to his scene. As the company expanded, so did my role. I now am in charge of celebrity and model outreach for all events and venues (nightclubs, lounges/bars). The majority of my day is spent building relationships with the talent as well as their representatives (agents,
managers and publicists).
How do I come to work in this business? I graduated with a BBA in consulting from the Goizueta Business School of Emory University. I finished a semester early to get a fast start in LA, where I had no contacts but a great desire to work. I did not know a single person in LA before moving out here, and interestingly, hardly anyone from Emory or my earlier schooling was
from the West Coast. My decision was made on the basis of "where do I want to start my business career linked to the entertainment industry: LA or NY (because those are the two benchmark cities)?" Everyone I knew was heading for NY for finance and accounting careers. So I took the road less traveled by and set my sights on LA, although — make no mistake — I love NY.
I pursued LA for the entertainment angle and a "new" territory for me to conquer. I had already worked and lived in several European countries as well as Australia, so LA represented an exciting challenge. I wanted to work in the entertainment industry specifically from a corporate marketing standpoint. I had seen in Atlanta (home of Emory) how Coca-Cola does this aggressively and I thought I could contribute my international background, business education, and passion for show business in this town.My job at Bolthouse enables me to combine my background, my BBA, and my Hollywood network seamlessly. My goal is to link corporate marketing and Hollywood with better proven results than those achieved by traditional advertising strategies.
WS: Exactly how does Bolthouse align with the entertainment history here?