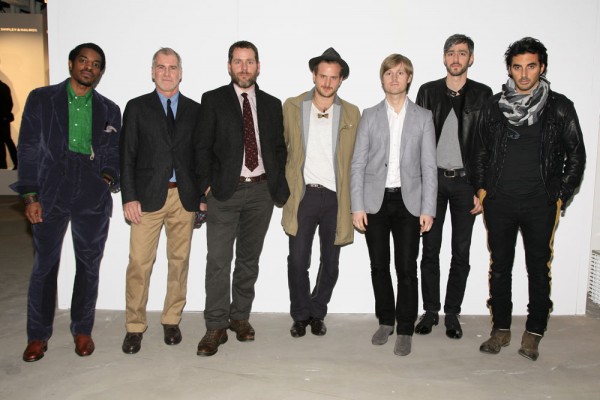 The 2009 finalists: Andre Benjamin for Benjamin Bixby, David Mullen for Save Khaki, Alex Carleton for Rogues Gallery, Robert Geller, Sam Shipley and Jeff Halmos for Shipley & Halmos, Yigal Azrouel. Ph: David Prutting for Patrick McMullen, courtesy of GQ.
The audience at the GQ/CFDA 2009 presentation of the Best New Menswear Designers in America was a who's who of the most important people in American men's fashion today. What makes these 6 designers exciting is the eminent wearability and timelessness of their clothes. Hosted by GQ editor in chief Jim Nelson, GQ publisher Peter Hunsinger and CFDA director Steven Kolb, the attendees included such designer legends as Tommy Hilfiger and Kenneth Cole and rising young star Chace Crawford.
Get the Flash Player to see this player.
Get the Flash Player to see this player.
Perched on pedestals like Greek statues, 50 of the most beautiful male models in the world were perfectly placed for the audience to view the luxurious fabrics, cuts and colors of the 6 designers. It's a testament to the power of GQ and its Bookings Director, Richard Blandino that these top models and the young stars of tomorrow were gathered in this one room that warm February night. After the pics of some of the admiring crowd, feast your eyes on the male beauties in the clothes of the 6 lucky finalists of 2009.

Related posts:
This post's tags:
Alex Carleton
,
Andre Benjamin
,
Benjamin Bixby
,
CFDA
,
David Mullen
,
David Prutting
,
GQ
,
Jeff Halmos
,
Jim Nelson
,
Patrick McMullen
,
Peter Hunsinger
,
Richard Blandino
,
Rober Geller
,
Rogues Gellery
,
Sam Shipley
,
Save Khaki
,
Shipley & Halmos
,
Steven Kolb
,
Yigal Azrouel
4 Comments
Post a Comment:
Related posts:
Get all the latest scoops first, follow us on:

twitter: @models

models.com on facebook

email newsletter