The Coolest Imprint Alive Right This Second. Pt 1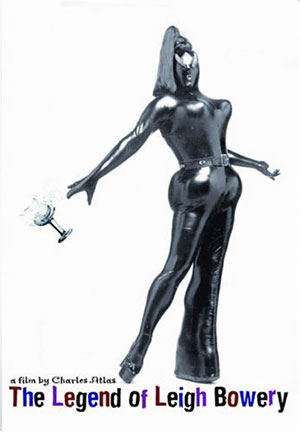 The Legend Of Leigh Bowery.Charles Atlas. Palm Pictures DVD
If you love images (and a love of fashion is often times the by-product of the adoration of pure image) then there are certain visuals that can change your way of seeing, if not your way of thinking. As such, you have not truly lived in your contemporary visual culture until you have seen the images of Leigh Bowery dancing in a head-to-toe polyester sheath, writhing as if his dancing was an escape act.
You have not lived the first emerging visuals of the 21st century until you've seen Ursula Andress recline majestically while wearing a crystal head dress in Matthew Barney's Cremaster opus. These DVD's and more ( notably the must collect Director's Label video series featuring the work of Spike Jonz, Chris Cunnigham and Michel Gondry) are part of the amazing library being compiled at a very audacious media company called Palm Pictures. This company is at the forefront of the DVD revolution that puts the kind of esoteric work that was usually restricted to the fashion world's image making elite in the hands of the general public. These are the filmic references that are becoming a truer reflection of today's image culture than the retro impulses that feed most mainstream magazines . MDC was more than happy to catch up with Palm Pictures's Ed Rivadavia, Head of Digital Marketing Services for the scoop on this potent media imprint.
1.Ed, Could you give a little background on Palm Pictures.And also elaborate on your role there.
Palm Pictures was started in 1998 by Island Records founder and Rock and Roll Hall of Fame member Chris Blackwell, following his sale of Island to Polygram. Looking to expand beyond music industry boundaries, CB shaped Palm into an independent multi-media company which distributes innovative music and film projects, with a particular focus on the DVD format.
Breaking that down some more, we're involved with films for both theatrical and DVD release, music documentaries, anime (Manga - www.manga.com - which we just sold, actually), print (RES Magazine, also promoter of the yearly, world-roving RES Fest - www.res.com & www.resfest.com), Palm Music a record label (www.palmpictures.com - a fully functioning record label reposponsible for a wide range of releases from the likes of downtempo act Zero 7, world music superstars Baaba Maal and Gigi, British chanteuse Martina Topley-Bird, rock icons Sparks, and new alternative talent like Earlimart and Moving Units), and various web properties, including music on demand mainstay Epitonic (www.epitonic.com) and the award winning Sputnik7 (www.sputnik7.com). Palm music owned Rykodisc for a few years, but that was spun off three years ago.
My role at Palm as Head of Digital Marketing Services involves all of the above areas in one way or another. Mostly, I market and promote all theatrical, DVD and music releases to major web destinations (MSN, Real Networks, AOL, Yahoo!, MTV.com, etc.) and independent entertainment/music/film websites alike, distributing digital assets such as ecards, trailer streams and mp3s to offer consumers samples of our products. I also manage all of our digital download initiatives (Apple iTunes, Napster, MusicMatch, etc.), coordinate the creation of websites, ecards and other assets cited above, and maintain our various websites.
2.Why select these film properties? Its an incredibly eclectic selection. What's the uniting idea?
Palm is very much the result of Chris Blackwell's vision - that is to always operate slightly to the side of the mainstream. It's this philosophy which allowed him to discover and sign artists like Bob Marley, U2 and Melissa Etheridge during his years with Island, and which now results in our working such an eclectic roster of films, documentaries and music artists. I suppose the unifying idea is still very much the Bob Marley credo of ONE LOVE, but, really, the slightly left, or outside the mainstream philosophy aplies as well.
3. Who do you see as that ideal customer buying the product?
Palm's ideal consumer - like Palm - is eclectic and open-minded by nature and always looking for something new. Over the years, we have discovered that, more so than limiting ourselves to specific niches or styles, it's that very willingness to experiment and take chances, that has gained Palm so many loyal customers. Most of these don't always know WHAT to expect from Palm, only that they'll be pleasantly surprised - whatever it is.
4. Is your company distribution only? Are there plans to go into actual film production?
There have been discussions of producing our own projects now and then, but as far as I know, nothing concrete at this juncture. I believe we own a few development rights that have yet to be moved on. But even if and when this move takes place, we'll probably remain focused on acquisitions - at least for the short term.
Posted by wayne at
05:00 PM