Filipa-phile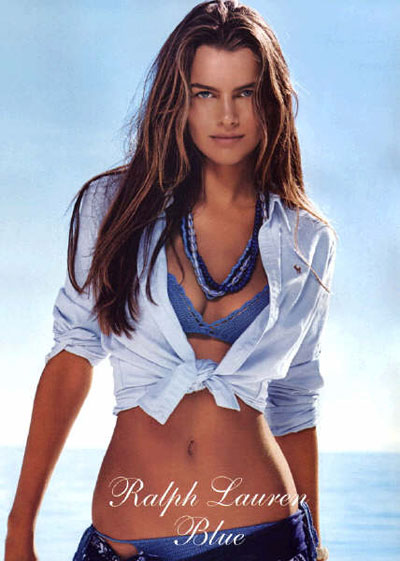 Filipa/Next. Ph Bruce Weber for Ralph Lauren Blue
Ever since we first spotted
Filipa Hamilton
on the
MOTW platform
, we have been major fans of her rare and incandescent beauty. Tune in as MDC's new correspondent
Ally Kaye
get the most in depth interview (to date) on one of the most beautiful girls in the world.
-----------------
I met up with RL girl Filipa and her mother at her posh hotel room at the Mandarin Oriental in NYC (and don't worry about her eating habits, because there were a few empty trays of what had been A LOT of food sitting right outside her door):
AK: So let's hear a little about your background.
FH: Well, I'm from the South of France, but I am not 100% French; my mom is French, but my dad is Swedish.
AK: Do you have any siblings?
FH: Yes, I have an older brother, he's 19. He's working in finance right now in London.
AK: How did you get into the modeling industry?
FH: Actually, my mom and I were looking through a magazine one day and we saw an advertisement seeking a mother-daughter pair for a photo shoot..
AK: So your first job was with your mother?
FH: Yes. We did a shoot together and then the photographer of the shoot asked me if I would consider doing "real" modeling, and I was like "me? I could be a real model?" So anyway, he introduced me to some people at
Next
and that's how I got started.
AK: So Next is the only agency you have ever been with? Does that make you very loyal to them?
FH: I have only been with Next. I would never switch agencies. NEVER!
AK: Ok so the photographer introduced you to Next and then what? How long did it take you to come on over to the Big Apple ?
FH: He introduced me to Next and very soon after that I left for New York. I was only in New York for 15 days when I met Ralph Lauren. I went into his office and he was on the phone, busy. Then, he took my book, flipped through it really quickly and that was it; I left thinking that he didn't like me or my book at all! You can't even imagine how shocked I was when I got a call back from RL to come back in. When I got the campaign I was completely stunned.
AK: (LoL) Rewind one sec. You were only in New York, and really trying to do the whole model thing for 15 days before you landed one of the biggest campaigns there is???
FH: Yes. I know. I consider myself really lucky. Actually, when I arrived in NY it was right at the time when Ralph Lauren was looking for a new model.
Filipa's Mother: She was basically in the right place at the right time.
AK: Yeah, and the fact that she is stunningly gorgeous didn't hurt. So how old were you when you originally started modeling and how old are you now?
FH: I started when I was around 15 and now I am 18.
AK: And which photographer do you really enjoy working with?
FH: Bruce Weber
AK: And does your mom come with you everywhere?
FH: Yeah, pretty much, especially to the States.
AK: Will you continue modeling after your exclusive campaign with RL expires?
FH: If I got another campaign I would continue modeling, if not, I wouldn't.
AK: So what are you interested in other than modeling and what would you pursue otherwise?
FH: I am really interested in the art. I like art history and just art in general. I also love singing and I have also tried acting a few times. I would probably try to pursue singing, but I don't really know.
AK: Would you consider the whole LA thing of moving there to pursue acting ?
F.H: Maybe.
AK: Growing up did you have a model that was your role model? Or, in general, who is your favorite model?
FH: I really love Christy Turlington. She is not like trashy; she is so classic.
AK: Do you have friends in the industry?
FH: I have a few model friends, but not many. Most of my friends are from London, where I have been living for a year now. I still have some friends from the South of France, but it was more difficult to keep in touch with them. Some of the models act like they are your friend and then completely ignore you when they score a big campaign, because they think they're too good for you then. I don't like that.
AK: Did modeling affect your diet at all? Did you have to change your eating habits?
FH: Well I have a "mother agent" (points to her mother) so she reminds me about what to eat and what not to eat, but I don't really watch what I eat so much. A lot of the girls stay very, very skinny and pale, but I prefer the tan, healthy look.
Filipa's Mother: All I really have to tell her is not to eat like 3 cakes a day; she doesn't really have to pay attention to what she eats so much.
Footnotes: A few other interesting things I found out about Filipa that you may be interested to know.
1.She has a boyfriend and describes her relationship as serious, but not SO serious.
2.Ten years from now she sees herself just being with her family
3. Had she not entered the modeling world at the time she did, she would've attended boarding school in Switzerland like her older brother had.
-Ally Kaye for MODELS.com
Posted by wayne at
04:50 PM