Tim Triumphs!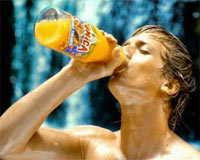 Supercool
MDC scouting find Tim
, has gone global, landing this hi-profile
German soft drink spot
(4Mb mpg video). Signed to
Boss Models
via MDC, Tim is quickly racking up points as one of of the most successful male model discoveries on our site. And we expect even more in the future!
Also check out our exclusive
video interview with Tim
! (6Mb mpeg video)
Posted by wayne at May 16, 2003 03:26 PM