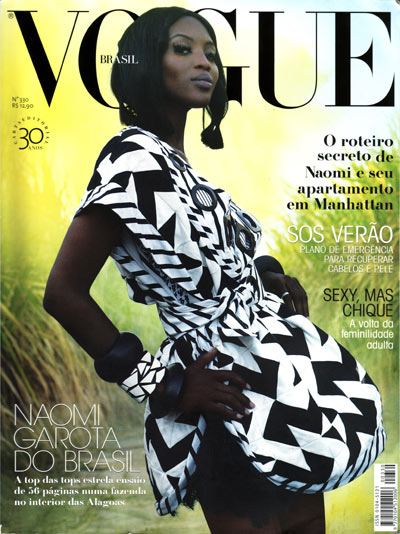 Naomi Campbell/Premier (London) Vogue Brasil March 2006. Ph Gui Paganini
Naomi Campbell is a global brand and the March edition of Vogue Brazil is ample proof of that fact. Not only is the entire 60 page editorial well of the issue devoted to Ms Campbell, but much of the advertising features the iconic model. But then again devotion has always marked the relationship between her and Brazil.
As the supermodel noted to OTM, "I love the vibrations of the country, the sweetness of the people, the culture, the food. Yes, it's a place of work for me, but it never feels like that. There is no pressure! I'm so blessed in the way they treat me. It says on the cover" We love Brazil ", and I love Brazil too. That's why I started my charity for the favela children. I just want to say,"WE LOVE BRAZIL"" .
[Click below for a few samples from the Naomi exclusive Vogue Brasil March 2006 issue.]