A glimpse at the new colors from Tom Ford Beauty
The wait is over, beauty fanatics. Tom Ford's color collection launched exclusively at Bergdorf Goodman this week, complete with an in store appearance by the man himself. The Ford faithful came out in droves to see the new collection and get their goodies signed. Naturally we were there to take in the excitement and sample the expansive selection.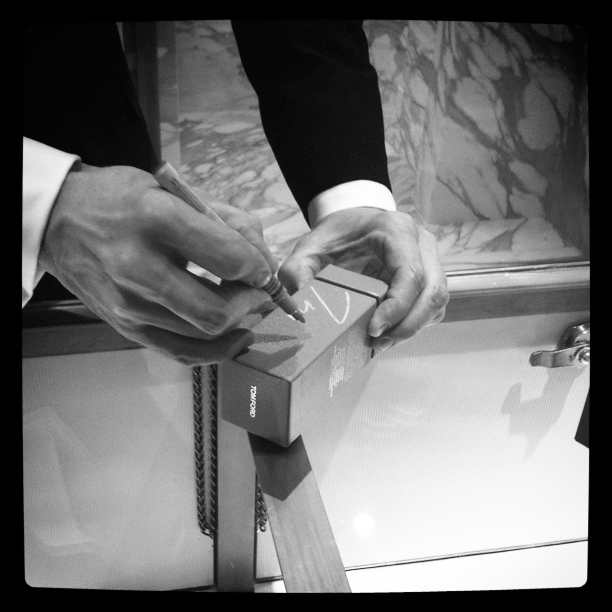 Beauty Icon Pat McGrath shares her behind the scenes polaroids of the beauty looks at Dolce & Gabbana, Anna Sui and more. An intriguing look into the behind the scenes process and the fun of fashion week.
The stunning top 10 Newcomer Julia Frauche heads over to Into the Gloss and gets made up in the latest from Burberry beauty.
MAC Cosmetics comes to Tumblr with a wealth of gorgeous imagery from fashion week's biggest shows.
Is there anything Karl can't do? The legend lends his name to a capsule makeup collection headed to Sephora for the holidays. We have to admit that we're kind of loving that Karl snowglobe.
Vogue interviews the legendary Francois Nars on his incredible career and what it was like to help create some of the magazine's most memorable imagery.
We saw a lot of outlandish beauty looks this Halloween – the fashion crowd never misses an opportunity to dress up, but we think the award for best beauty has to go to Jessica White. The Maybelline spokeswoman's smokey eyes and red lips combo was almost enough to draw our attention away from the giant boa constrictor wrapped around her neck!