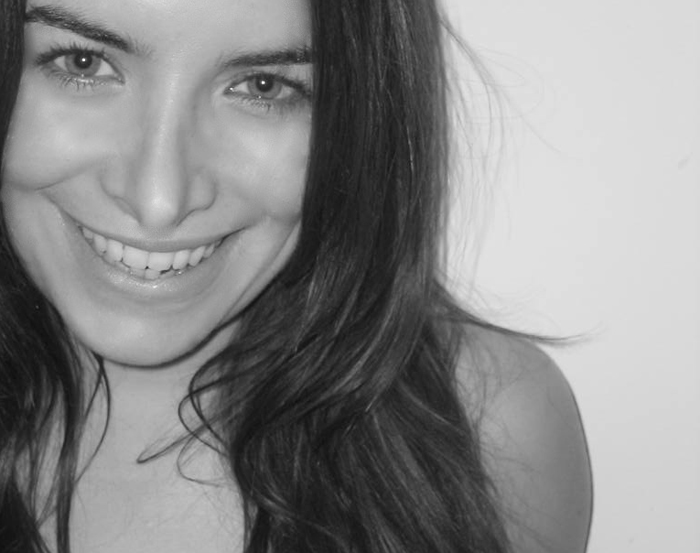 With a skill for creating looks that enhance the natural beauty of all her subjects, while making visually impactful images, Wendy Rowe is one of the leading makeup artists in the industry today. As an editorial fixture with work in magazines like Vogue Italia, V Magazine & Vogue Paris, and the Beauty Artistic Consultant for Burberry Beauty, Rowe's signature style is everywhere, but there are always new frontiers. With the launch of her new website, Wendy Rowe.com, she takes her expertise to the web and a whole new audience. MDC caught up with one of fashion's busiest innovators to talk Prada, punk influences and the changing face of beauty.
MDC: When did your interest in makeup start?
WENDY: When I was about ten and I wanted to be a punk! I was so fascinated with the punks on Kings Road, and became really interested in their style and strong makeup looks. I was a bit too young to actually be a punk, so I would dress up in my bedroom with crazy makeup like Siouxsie and the Banshees, or a prettier version of punk like Blondie.
MDC: What was your first break in the industry?
WENDY: Doing the Prada campaign – Prada used to always pick up-and-coming photographers to do their campaigns, and as I'd previously worked with photographer Cedric Buchet I did the campaign when he was chosen. It used to be really exciting to see which photographer got chosen for the Prada and Miu Miu campaigns each season!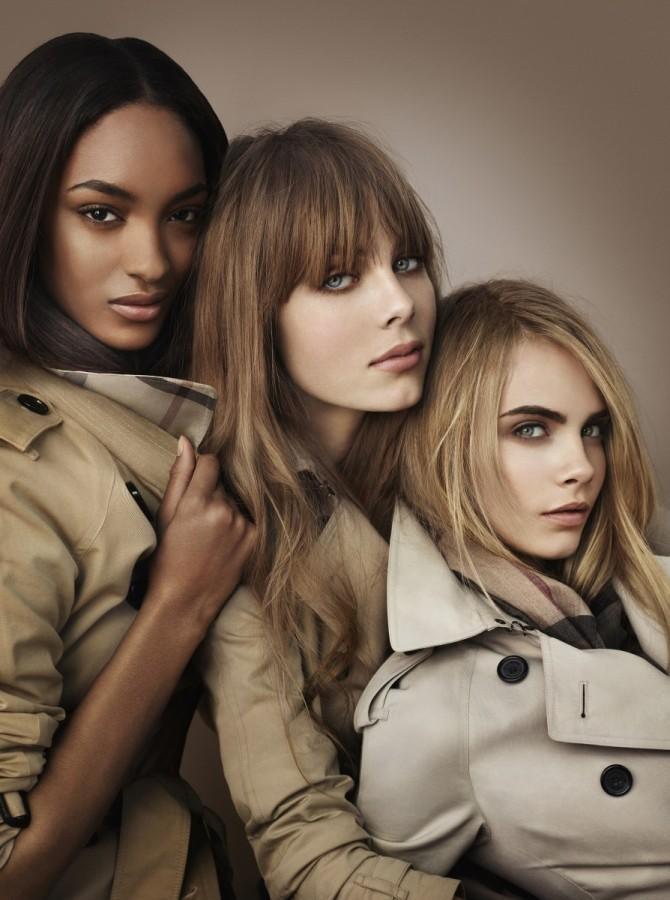 Jourdan Dunn, Edie Campbell & Cara Delevingne for Burberry, image by Mario Testino
MDC: How did you get involved with Burberry beauty?
WENDY: I had been doing makeup for the Burberry Prorsum shows for ten years when they launched Burberry Beauty, so it was a natural progression to be asked to work on the line. Working with Christopher Bailey for so long, we'd been building the Burberry woman and I completely understood the brand's philosophy, as I'd grown with the Burberry Prorsum brand.
A first look at Wendy's brand new site, Wendy Rowe.com
MDC: What made you want to start your own website?
WENDY: I wanted to evolve as a makeup artist and do different things. I've always been interested in design, graphics, magazine layouts and typographies so I wanted to create a website that was visually-led and quick to see what's hot. Otherwise I get instantly bored if it takes too long to get the info.
MDC: What can we look forward to seeing on Wendy Rowe.com?
WENDY: It's an inside look into my world, so there will be lots of product info on the best and latest beauty news, how-to videos, behind-the-scenes shots and films, interviews with industry experts, application tips and my favourite things of the moment. I also will be sharing my experiences with beauty treatments and fitness retreats – I've been lucky enough to try so many different treatments which gives me a great advantage as I really know what works and what doesn't. My friends laugh at me as no matter how busy my day is, I can always squeeze in a treatment.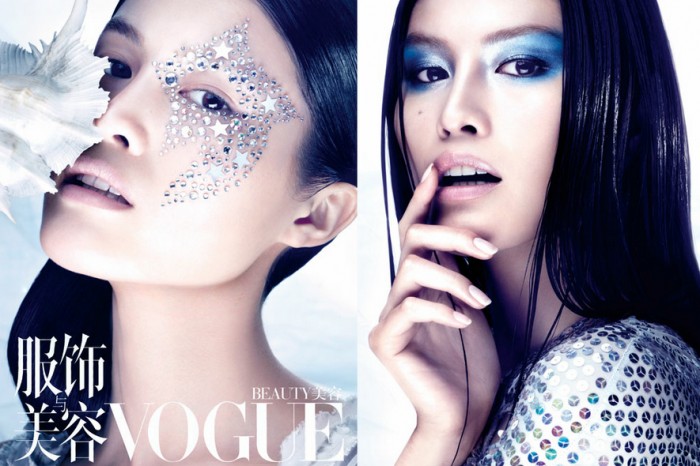 Sui He as a gilded mermaid, makeup by Wendy, image by Regan Cameron for Vogue China
MDC: What are your makeup standbys – looks you will always love?
WENDY: I have always loved creating amazing skin – makeup that doesn't look like you have anything on, but your skin just looks great. I also love a modern dishevelled black eye or bold red lip, because they're great looks that everyone can wear.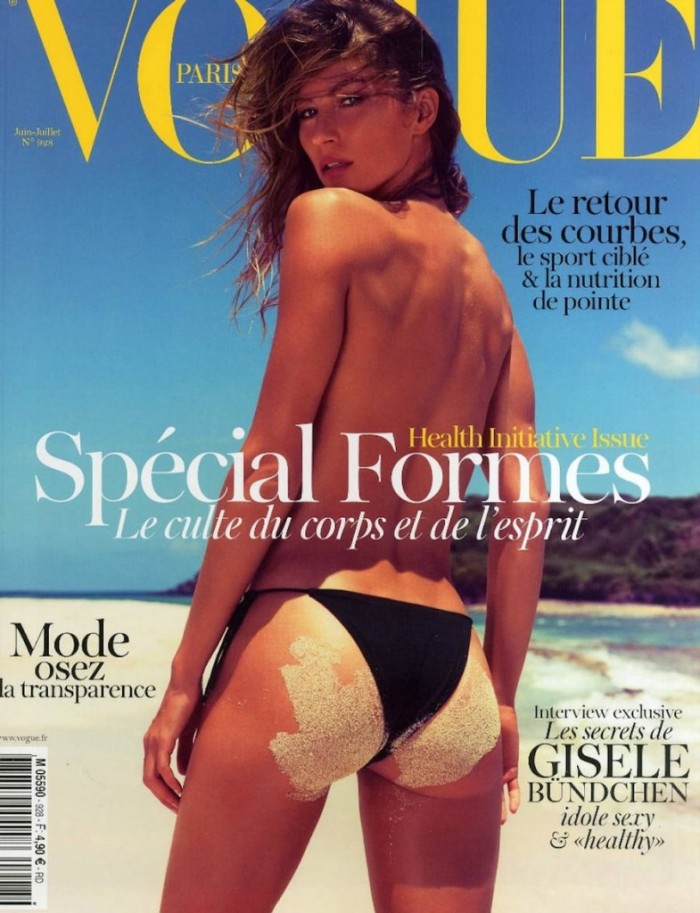 Gisele Bundchen covers Vogue Paris in makeup by Wendy and little else, image by Inez van Lamsweerde and Vinoodh Matadin
MDC: What are you proudest of in your career?
WENDY: I was super proud and honoured to work with Burberry on developing Burberry Beauty, because the visuals and products we create are always a really high standard. I am also really proud of my covers – it's not so much about the makeup but about the image! It was great to see my recent French Vogue cover with Gisele and V cover with Ke$ha that I worked on, both with Inez and Vinoodh. Also my first Numero cover with Anja Rubik with Camilla Akrans.
MDC: What do you think are the key beauty trends of the season?
WENDY: Amazing skin is always a trend for summer, and this season my favourite trends that compliment this are rich, metallic eyes or a dark cherry black stain on the mouth.

Related posts:
This post's tags:
Burberry
,
cara delevingne
,
edie-campbell
,
Gisele Bundchen
,
Inez van Lamsweerde and Vinoodh Matadin
,
Jourdan
,
Mario Testino
,
Regan Cameron
,
sui-he
,
V Magazine
,
Vogue Italia
,
Vogue Paris
,
vogue-china
,
Wendy Rowe
Post a Comment:
Related posts:
Get all the latest scoops first, follow us on:

twitter: @models

models.com on facebook

email newsletter

follow models.com